Melanotaenia goldiei "Dekai Village"
Melanotaenia goldiei ist per Definition über die gesamte Südseite Neuguineas sowie die Aru-Inseln verbreitet. Es handelt sich sozusagen um das Gegenstück zur australischen Art M. trifasciata. Ähnlich wie bei dieser sind die Formen von M. goldiei sehr unterschiedlich gefärbt. Während M. trifasciata in der Haltung manchmal Probleme aufwirft, ist dies bei M. goldiei bislang nicht bekannt geworden.  Die hier vorgestellte Form aus der Gegend um das Dorf Dekai ist metallisch hellblau gefärbt, mit gelb-roten Flossen. Die Körperfarbe geht bei erwachsenen Männchen während der Balz bis ins Violette über. Schön ist auch, dass die Weibchen ebenfalls farbig sind. Erwachsene Tiere erreichen eine Größe von über 10 cm.
Melanotaenia goldiei is defined to occur along the entire southern part of New Guinea and the Aru Islands. It is the counterpart to the Australian species M. trifasciata. Similar to this, there are several forms of M. goldiei which are of different colors. While M. trifasciata sometimes rises problems keeping in the aquarium, this has not been known for M. goldiei. The form presented here, originating from creeks around the village of Dekai, shows metallic-blue colors with yellow and red fins. The body color can change up to purple in courting males. Nice, the females are coloured, too. Adult fish reach a size of more than 10 cm.
<![if !vml]>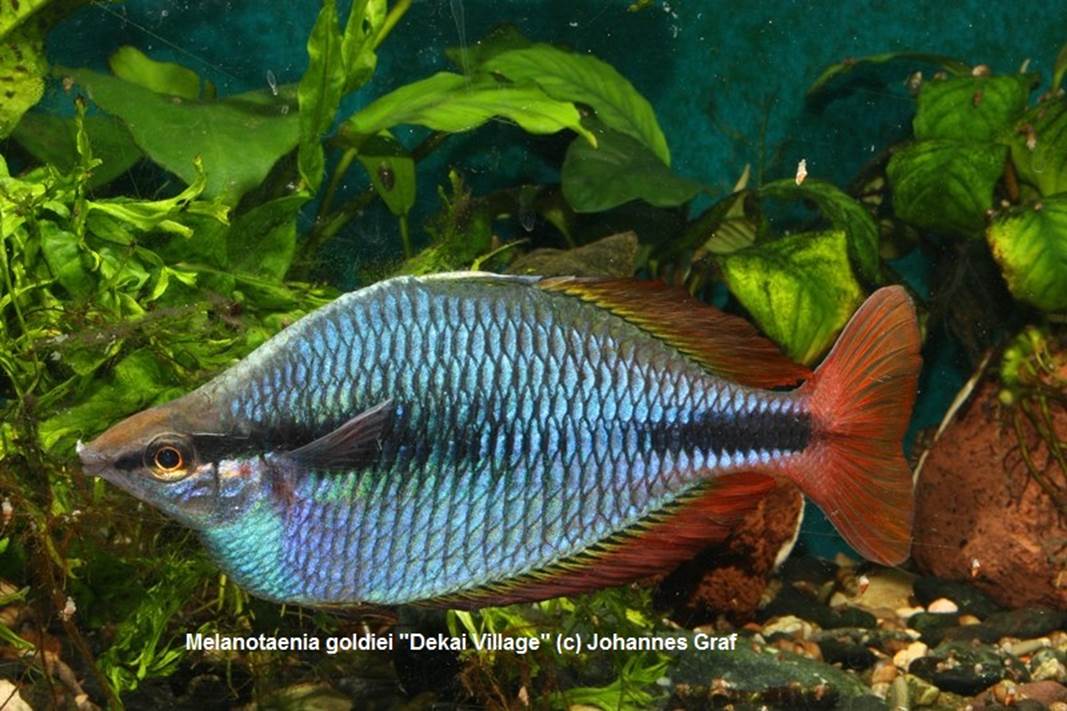 <![endif]>