Melanotaenia rubrostriata "Kavor Village"
Diese außergewöhnliche Form von M. rubrostriata habe ich von einem Buschpiloten erhalten. Das Dorf Kavor liegt am oberen Digul River, dicht an der Grenze zu Papua-Neuguinea.Die Art wird groß,  13 bis 15 cm ist keine Seltenheit. Das besondere Merkmal sind die weißen Ränder der zweiten Rücken- und Afterflosse. Leicht zu halten und friedlich. Frisst gerne Wasserlinsen!
This unique form of M. rubrostriata I obtained from a jungle pilot. Kavor Village is located in the upper Digul River system, very close to the border to Papua New Guinea. The fish become large,  13 to 15 cm long. The outstanding feature is the white margin on the second dorsal and anal fin, which are very wide. An easy to keep species, very peaceful. Likes to eat water sprite!
<![if !vml]>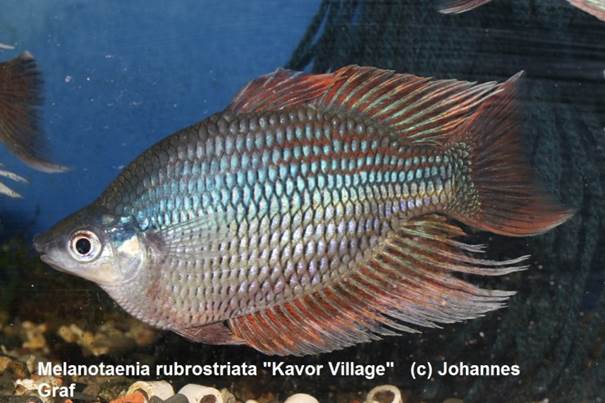 <![endif]>