Rhadinocentrus ornatus "Poona"
Dieser neue Rhadinocentrus wird in Australien schon als einheimischer Ersatz für Melanotaenia praecox bezeichnet. Der Körper ist metallisch blau, dazu kommen rote Flossen. An den Jungfischen ist das noch nicht zu sehen, wir dürfen gespannt sein, wie sie sich entwickeln. Allgemein ist R. ornatus besser im Artenbecken aufgehoben, weil er im Gesellschaftsbecken leicht unterdrückt wird. Außerdem kommen im Artenbecken immer mal ein paar Jungtiere ohne Zutun des Halters hoch, was bei den relativ kurzlebigen Rhadinocentrus zweifellos günstig ist.
This new Rhadinocentrus is already called the native replacement for Melanotaenia praecox in Australia. The body is metallic blue, the fins are red. This cannot be seen yet on the imported young fish, so we are looking forward to how they will develop. In principle, R. ornatus is better kept in a species tank. It is easily suppressed in a community tank. Furthermore, in a species tank, fry come up without effort, which is good, considering the short lifespan of Rhadinocentrus.
<![if !vml]>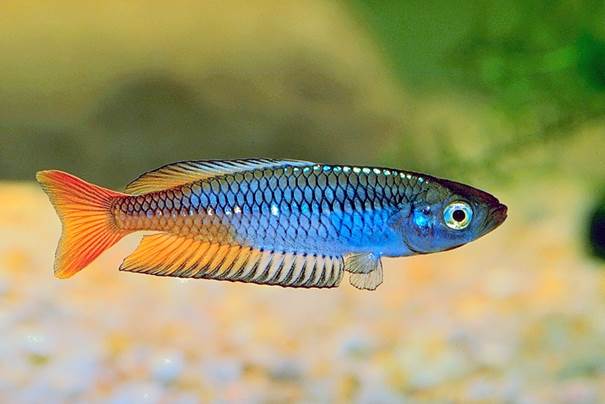 <![endif]> 
Picture: Leo O´Reilly
Rhadinocentrus ornatus "Stradbroke Island"
Ebenfalls eine neue Form von Rhadinocentrus, mit starker Musterung auf den Körperseiten und roten Flossen.
Another new Rhadinocentrus, with heavy dark markings on the sides and red fins.
<![if !vml]>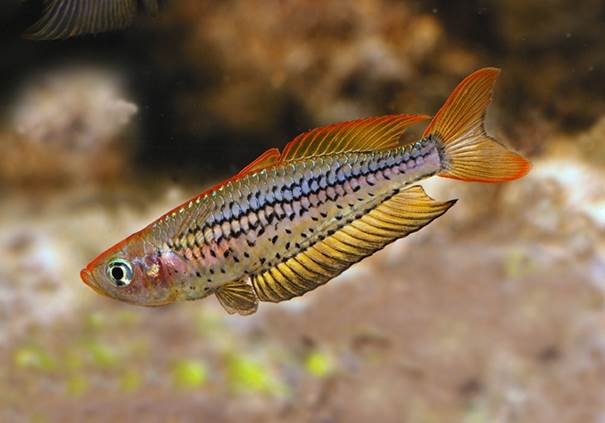 <![endif]>
Picture shows similar Evan´s head form. Picture: Gunther Schmida
Rhadinocentrus ornatus "Teewah Creek"
Eine kupferrote Form von Rhadinocentrus ornatus, mit schwarzen Flossenrändern.
A copper-red form of Rhadinocentrus ornatus, with black edges on the fins.
<![if !vml]>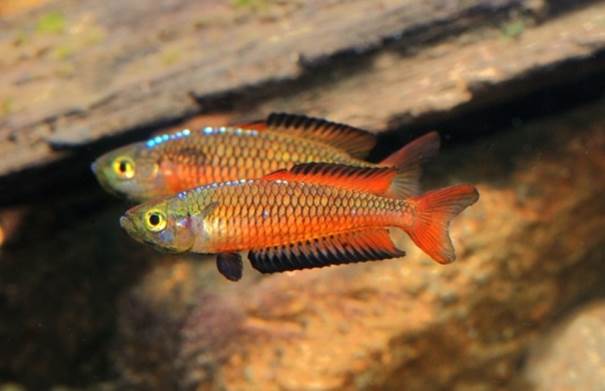 <![endif]>
Picture: Gunther Schmida